Starling Cycles started out making custom sized bicycles for a wide variety of customers.
This gave us a wealth of knowledge about how bike sizing works best for mountain bikers.
We've used this knowledge to ensure our standard sized bikes fit as well as they can. We also take note of considerations such as modern dropper post requirements, stem lengths, chainstay lengths and seat tube angles.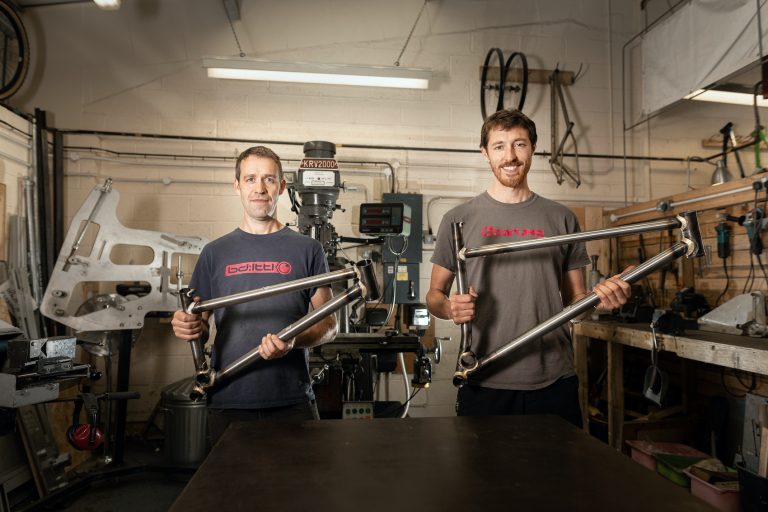 Start With Wheel Size
When selecting which bike is best for you, we'd recommend starting with wheel size. Broadly speaking, the 29″ Starling Murmur is better for taller riders, the 27.5″ Starling Swoop for smaller riders.
But bear in mind the discussion about each bike's bias towards certain types of riding. The Murmur is better suited to flat out speed, ideal for racers. The Swoop leans towards slashing turns and playful riding. The Starling Twist, our mullet bike, might well offer riders an ideal midground.
But What About Reach?
Once you've made a decision about frame model, height is a pretty good starting point for sizing. People often tell me they have long bodies so need a longer bike, but longer arms often mean shorter legs for any given height, so these things tend to average out. The bike pages give sizing guides based upon height.
Often people tell me they like a certain reach on their bikes. Reach is useful but is perhaps more a measure of the stability (along with chainstay length) you will achieve with the bike. But it's not necessarily the best ergonomic measure for a bike to be ridden up, down and along.
When stood up on the pedals we can easily accommodate big changes in reach. But when seated, with our bum position fixed, it is harder to accommodate a big reach increase. So to counter this longer reach, seat tube angles have got steeper (be careful of some manufacturers who haven't quite worked this out yet!).
What we end up in is a position where to size a bike for the rider, the reach becomes less important, and the old measurement of effective top tube reverts to being the best ergonomic measurement to use.
Effective top tube (horizontal length from top of head tube to seat post) isn't perfect, it doesn't take into account saddle height, bar height, stem length and bar roll. But it's pretty good and with saddle and bar changes you can get near something that fits you.
Seat Tube Length
Seat Tube Length is another aspect of bike sizing we need to consider. But luckily it's an easy one. We just need to understand the pedalling height of your saddle, and the dropper you intend to use.
Measure your existing pedalling seat position at full extension; from saddle rails to centre of BB. For example, my measurement is 740mm. You then need to compare this measurement by the extension of your chosen dropper, for example a 160mm BikeYoke dropper has a minimum extension of 202mm, and a maximum extension of 334mm.
For a large sized frame, seat tube is 440mm. Considering my saddle height, 740mm, minus minimum extension, 202mm, we have 538mm, so 98mm of post showing, all good.
For 740mm, minus maximum extension, 334mm, we have 406mm, so with a 440mm seat tube, we will not exceed maximum insertion.
And If That Still Doesn't Work…
But if you feel that the current range isn't quite right; either you are between sizes, or outside the range of sizes, or are a full on ripper and want the bike a degree or two slacker, don't worry too much.
Starling Cycle can build you a bike to your exact fit, see our custom frames page.