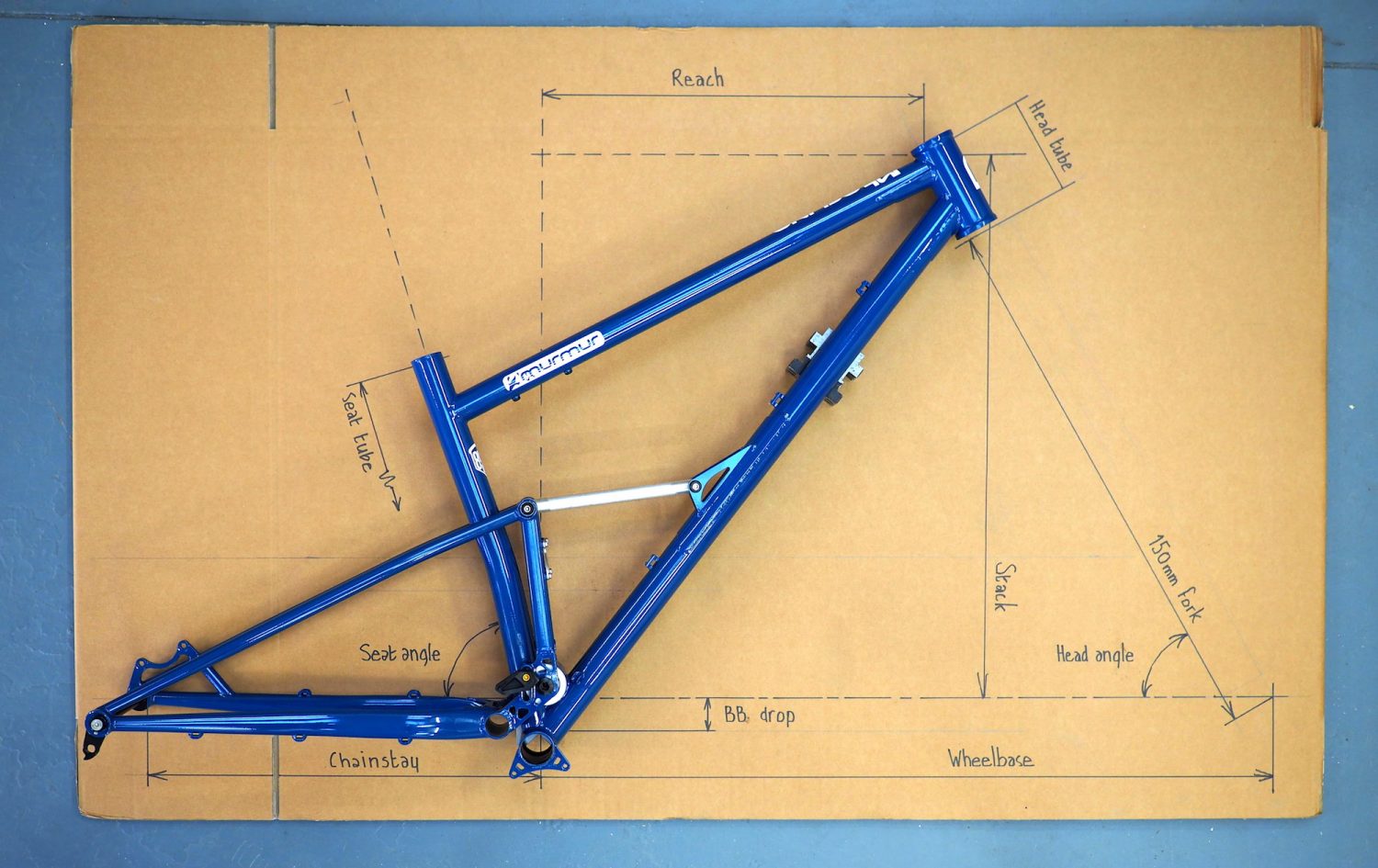 Starling Cycles Sizing Guide
Starling Cycles frames can be supplied with custom geometry. We can customise your head angle, reach, seat tube length and head tube length.
Head Angle
The modern trend is for slack head angles with some brands racing to make their bikes slacker and slacker. I'd consider 'slack' to be anything less than 65°.
A slack head angle is all well and good if you're an experienced, confident rider that can really throw a bike around. It'll provide stability and confidence on rough terrain at high speeds. Oppositely, it'll be a little less easy to throw around at lower speeds and for less technical, less steep, slower speed trails can take away a bike's playful nature.
For the 27.5" Swoop I'd recommend a head angle of 64°.
For the 29" Murmur I'd recommend 65°.
Reach
Reach is the measurement from your bottom bracket to the top of your head tube. It's roughly the distance from your feet to your hands. It's a hard thing to measure and I much prefer using downtube length to size bikes.
Starling's bikes are generally a little longer than most mass-manufactured designs and my recommended reach figures offer a stable, confident ride without sacrificing playfulness.
We can recommend sizing for riders of any size and have designed bikes for riders from 5'2" all the way up to 6'9".
We'd recommend a reach of 480mm for riders up to 6'.
The maximum reach we can build is 535mm – we just can't get tubes long enough to go any bigger!
Seat Tube Length
An easy one. Measure your existing seat position from the top of the seat post at full extension. Reduce the measurement by 250mm (the typical post extension from the frame for a 150mm dropper) and you've got your magic number.
Head Tube Length
Swoop frames come with a 120mm head tube.
Murmur frames come with a 110mm head tube.
If you like your bars high, we can increase this though going too long makes your frame look like a gate.
If you like them low we can go shorter, but no less than 110mm.
Effective Top Tube
Bikes have got longer recently, reach and wheelbase have lengthened. This is good for bike stability and something Starling Cycles has been keen to adopt. Luckily, our bodies can easily accomodate this lengthening when stood up on the pedals.
But when seated it is harder to accomodate a bike length increase. So to counter this, longer reach seat tube angles have got steeper. What we end up in is a position where to size a bike for the rider, the reach becomes less important, and the old measurement of effective top tube reverts to being the best to use.
Effective top tube (horizontal length from top of head tube to seat post), isn't perfect, it doesn't take into account saddle height, bar height, stem length and bar roll. But it's pretty good. And with saddle and bar changes you can get something that fits you.
So in summary, long reach and wheelsbase is good for bike performance, but not really a 'ergonomic' sizing measurement. Effective top tube is what you should be comparing when looking for a bike to fit you.